MERCEDES SPRINTER
By means of the AMT-ZAGRO equipment, the Sprinter is quickly and easily deployable on both road and rail. The Mercedes Sprinter can be delivered with closed body or open body. There is also the choice of a single or double cabine.
TRACK EQUIPMENT
Features guide wheel holders at both the front and rear for optimal contact with the tracks and to prevent derailment.
The front and rear axles are separately controlled and equipped with hydraulic damping for equal wheel pressure.
Equipped with automated wheel pressure monitoring and display with warning message to ensure a safe working environment
Entirely controllable by means of the CAN-bus controlled LCD instrument panel in the cabin
Equipped with a central lubrication system for longer maintenance intervals
TECHNICAL SPECIFICATIONS:
Dimensions: 5250-7000 x 2450-2750 x 2425 mm (L x W x H)
Weight: 3500-5000 KG
Payload: 1000-3000 KG
Maximum speed: 80km/h on street, 50km/h on track
Minimum curve radius: 40 m
Track gauge: 1435 mm
Service is available at all Mercedes-Benz Service Centers
Lightweight chassis & pickups
For inspections or transporting people or equipment to work on the railroad, AMT-ZWEIWEG has pickup trucks and light trucks. These vehicles provide a safe and convenient option for transporting people and equipment. Both closed body and open body are possible. Other options according to the customer's wishes, such as a crane or loading platform are among the possibilities.
There are several options as a basis for building a light truck for use on the railroad. Other options such as: superstructure, crane platform and other systems, depend on the customer's requirements.
PICK-UPS
The pickups are built on the basis of the Toyota Hilux or Land Cruiser. A proven platform that can be delivered with a single or double cab. The pickups are excellent for transporting people, tools and materials, while not sacrificing the driving characteristics of a passenger car. This gives AMT-ZWEIWEG's pickups the possibility of flexibility and rapid deployment that other rail vehicles lack.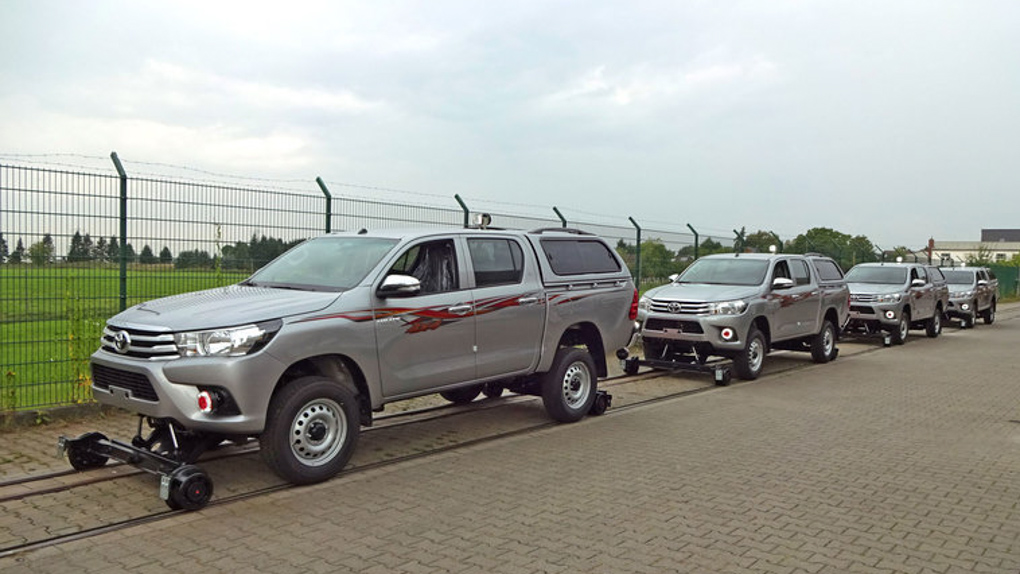 The single-axle guide frame, with a track gauge of 1435 mm, ensures that the vehicle is tracked, while the wheels provide propulsion and braking. The guide frame maintains contact with the track by means of hydraulic pressure. This pressure is monitored to ensure safety. The maximum speed is 50km/h on the track.
Do you have a question for us?
Fill in the contact form and press the send button!
BUSES & PICK-UPS portfolio
An overview of our BUSES & PICK-UPS portfolio