The future is now
Working on a safe and clean environment on and around the railroad tracks
AMT RailRoad develops and manufactures zero-emission rail machines.
Unique machines with interchangeable battery packs allowing the user to work 24/7 emission free, safe and flexible.
The user gets a machine that is equivalent in power and feel to the fuel version, but quieter and with no harmful emissions
Smaller footprint
AMT together with ELEO developed flexible energy carriers that can be used in both smaller and larger machines.
This allows your zero-emission machinery to be used more efficiently.
Energy network
The interchangeable energy carriers allow the user to charge flexibly.
Both the machine and the battery packs have a standardized CCS2 fast charging connection.
This allows charging directly from the machine, on the construction site, in the workshop, at Fastned stations or separately from the machine.
Modular Technology
The electric drive is available both for new machines and as a retro-fit to existing machines.
It is possible to interchange and interconnect energy carriers to provide machines with larger capacities with sufficient capacity.
The development of energy carriers continues at a rapid pace. The modular concept also allows the use of the latest battery packs with higher energy density in the future.
For large energy consumers, it is possible to use hydrogen with a fuel cell as an energy carrier. This fits within the modular concept and takes up the space of 2 standard battery packs.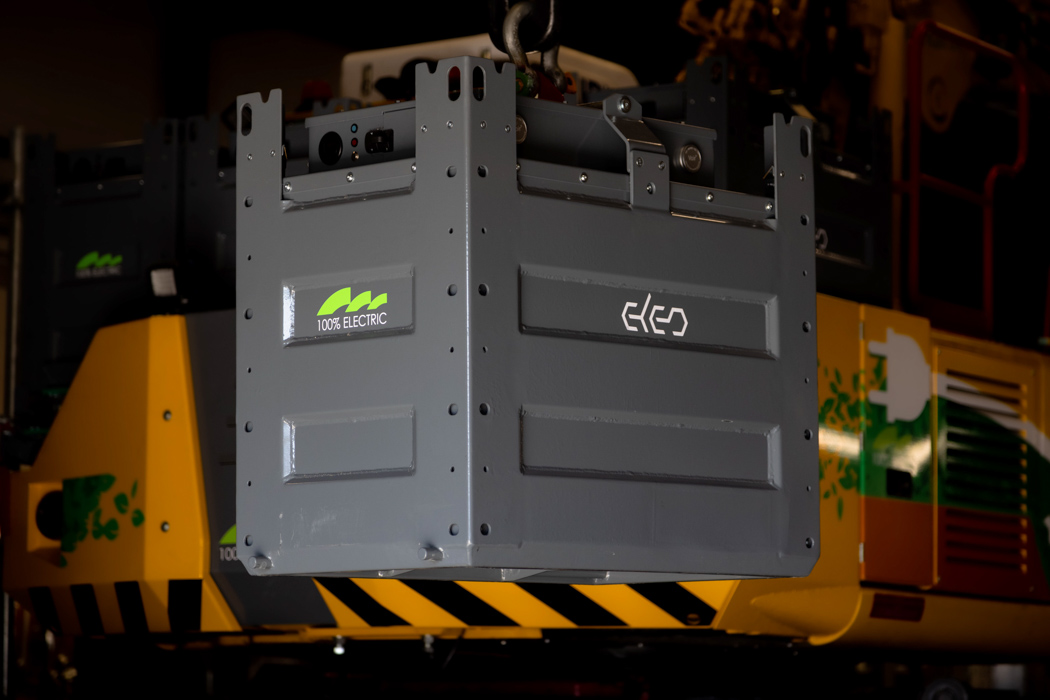 Continuously in development
Before machines are put into operation they undergo extensive testing.
Our solutions are developed and produced together with Dutch specialists and producers.
As a result, you can count on systems that meet all applicable safety requirements, on accurate service and machines that have the latest technology.
We provide customized solutions for users, distributors and OEMs.
The first electric excavator
The E-excavator developed together with BAM and ELEO is the first product with the battery packs of AMT RailRoad 100% Electric. This enables a saving of 55,000 kg of CO₂ for BAM Infra.
Using 4×60 kWh battery packs, the E-excavator is capable of up to 8 hours of independent active operation on the track. When the E-excavator is working with 2 battery packs while the other packs are charging, the E-excavator can even continue to work longer.
The modular and interchangeable battery packs allow BAM to share the battery packs with multiple machines in the fleet. In addition, the technology is future-proof with the ability to later apply newer battery packs with more capacity.
The best of both worlds
Even though the drivetrain is completely new and different from conventional drives, a requirement was that the machine feel as familiar to the operator as possible. This became possible by retaining the hydraulic steering present in the excavator. The cooperation between the hydraulic and electrical systems offers the best of both worlds. The clean and efficient operation of electricity with the feel of hydraulic control.
Do you have a question for us?
Fill in the contact form and press the send button!
AMT Zero Emission
An overview of our 100% Electric portfolio